Grilled Chicken Thighs with Mozz, Mushrooms & Maple
 Four chicken thighs, skin on

 pepper to season  

 4 tbsp soy sauce

 4 tbsp pure maple sugar

 4 gloves of garlic, minced
 Fresh basil

 4 slices fresh mozzarella
 1 lb of sliced mushrooms 

​ 4  tbsp olive oil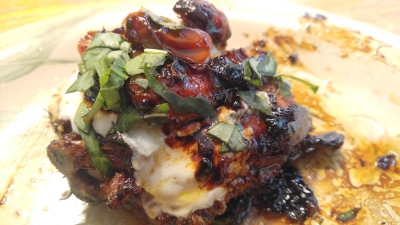 ​​
Prepare the marinade by whisking together the soy sauce, balsamic vinegar, garlic and maple sugar. 
Pepper the chicken thighs
Pour marinade in plastic bag and reserve about half for later. Put chicken in bag and place in refrigerator for minimum of 30 minutes.
Oil grill pan. Use high-heat. When grill pan is hot, place chicken skin side down. Cook five to seven minutes. Do not move the chicken. Leave it alone. Start cooking mushrooms separetly in a little olive oil. When chicken is done on first side, carefully flip to other side without tearing skin. Cook Five minutes more and remove. 
While chicken cooks on other side, heat marinade reserve in separate pan and add a tbsp of flour to thicken. Place chicken in reserve and add slice of fresh mozz to top of each thigh. Cover pan for three minutes to let cheese melt. Drizzle marinade over top of chicken, add mushrooms and fresh basil.